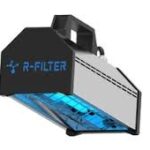 High-touch surfaces are surfaces that are touched multiple times by different users during the day. Regular disinfection of these surfaces with UV-C light prevents the spread of harmful microorganisms by contact.
High-touch surfaces:
Desks, telephones, computer screens and keyboards, laptops
Doorbell, door handle, light switch, control panels and buttons in elevators
Handrails on stairs, walls, tables, beds
Bathroom fittings, toilets and sinks
Medical equipment and instruments
Trainingtools, -mats and -equipment
ATMs, payment terminals
Seating areas in cars, buses, trains, and passenger planes
Ülőhelyek a mozikban, színházakban
A kórokozó baktériumokkal, vírusokkal szennyezett felületek érintése számtalan fertőzéses betegség forrása. Elvileg minden olyan felület, amelyet egy fertőzött személy megérintett vagy amelyre rátüsszentett, vírusokat terjeszthet. Ennek a kockázatnak a minimalizálása kulcsfontosságú, mivel a kutatások azt mutatják, hogy például a COVID-19 vírus néhány órán át vagy akár több napig is élhet a felületeken a hőmérséklettől, a felület típusától és a környezet páratartalmától függően. UVC kézi hordozható készülékünk kiváló eszköz bármilyen felület fertőtlenítéséhez. A 254 nm hullámhosszú UV-besugárzás elpusztítja vagy inaktiválja a mikroorganizmusokat, károsítva azok DNS-ét vagy RNS-ét. Az IUVA (International Ultraviolet Associaton) ajánlása szerint a felületfertőtlenítő UV kézi készülékekkel legalább 40 mJ/cm2 dózist el kell érni a vírusok inaktiválásához. Tehát ha a célfelület besugárzása 10mW/cm2, akkor ezt a dózist 4 másodperces expozíciós idővel érjük el. UVC Dózis (mWsec/cm2) = Sugárzási Intenzitás (mW/cm2) x Idő (sec) The UVC irradiance for certain distances from the bottom of our device UVC 150: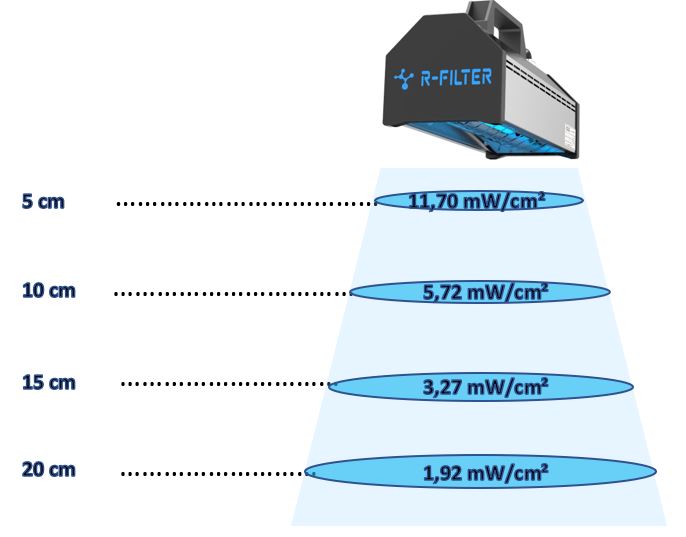 The best kill rate of microorganisms is at 40-60% relative humidity and at an ambient temperature range of 21-24 °C.
Features, benefits:
portable UVC device
kills microbial surface contaminants - viruses, bacteria, fungi and spores
reduces the spread of infections
just plug in and use
cheap operation
lifespan of UV-C lamp is 9,000 hours
does not produce ozone and by-products
akár 99,99%-os csíramentességet is elérhet